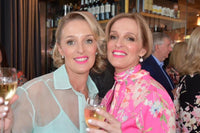 About US
Black Orange boutique is owned by Martine and Nicole Identical twin sisters!
The boutique has become a fashion institution in Lygon street Carlton for over 30 years. Ladies have been known to travel miles to update their wardrobe, with the latest fashion pieces sourced by the twins, from all over the world, Especially pieces from their beloved New Zealand! 
It's all about quality and iconic pieces at Black Orange. We prefer to stock investment pieces that will stand the test of time. We are always searching for beautiful fabrics and trends that last a lifetime, not a season.
It's not solely about fashion at Black Orange. We are part of a huge community and have built amazing relationships with our suppliers, as well as our very loyal clients, who are always guaranteed a laugh and a listening ear.
We aim to make you feel comfortable and relaxed throughout the Black Orange experience xx